Our true validation and the medals of honor we proudly wear at Jordan Airmotive.
Wings of Lebanon
29/12/2015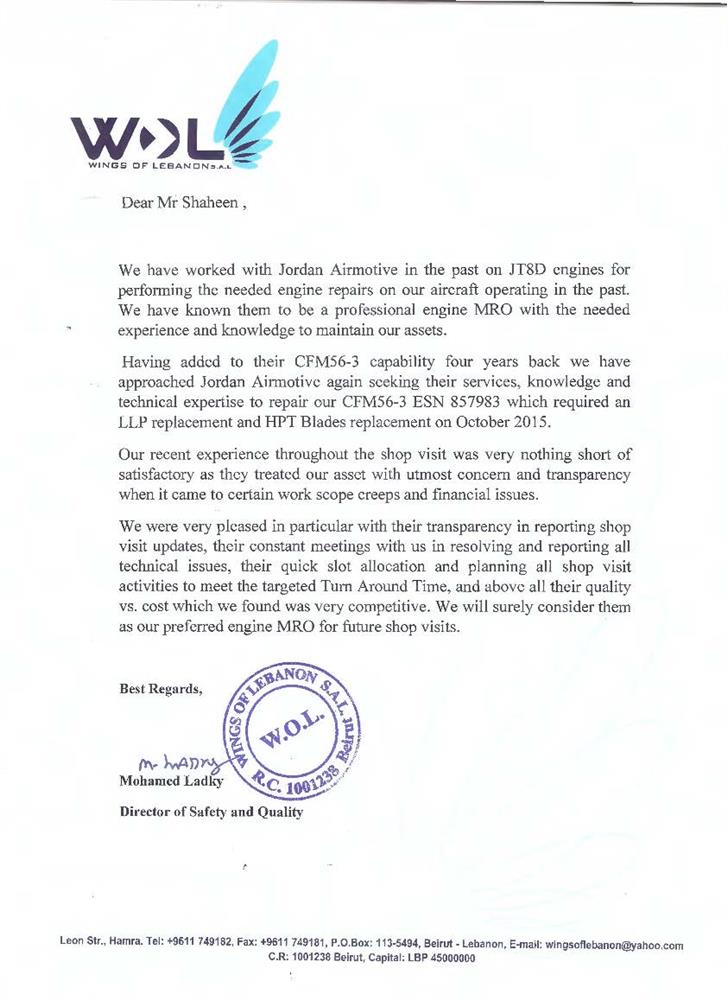 Badr Airlines
24/11/2015
Sky Power Express Airways
30-08-2014
kypower approached Jordan Airmotive because they offered us the best quote we received by quite a margin in terms of price with a highly competitive Turnaround Time (TAT). I asked my engine consultant to review their facilities and he reported that they are well equipped and staffed with experienced people - they have clearly invested in new equipment, which explained how they could meet their quote and gave us confidence that they would meet their ambitious TAT. Jordan Airmotive helped me throughout the shop visit by being extremely flexible in coping with difficulties on my side during our very first shop visit, which they helped me overcome. The extent to which they supported Skypower went far beyond what we expected from an MRO and made us feel like friends rather than a customer. As a result, our engine went through their shop on time and within budget - without any surprises or the extra charges that often arise to remove the 'bargain' element of the original quote. There are several things that my team likes about Jordan Airmotive's service. Everyone agrees that their counterpart - technical and commercial - treats them in a professional, courteous and friendly manner. As this is something that African airlines do not always enjoy outside Africa, I have already successfully introduced them to other operators in Nigeria. This is my attempt to help local airlines benefit from a reliable, cost-effective service in my capacity as Secretary­ General of the Aircraft Operators Association of Nigeria, a position I have now held for 27 years. My recommendation was confirmed when J.A. was approved by the Nigerian Civil Aviation Authority as a Maintenance and Repair Organization within a very short time frame - one further reflection of the quality of their facility and services. I have found my airline's experience with Jordan Airmotive entirely satisfactory and would recommend them to any other operator who has engines within their range. Skypower has received excellent service at a low price and within a surprisingly short TAT - what more could we ask?
AELOUS AIR
20-08-2014
I approached Jordan Airmotive because their high quality service and flexible approach to customer need is on high level Jordan Airmotive helped me by repairing the CFM 56 engines and sourcing of required spare parts The result was very good and TAT maintained as planned One thing I liked was their expertise and flexibility, friendly understanding of situation of course along with quality for performed job I found the experience very good I would recommend Jordan Airmotive to people who need engine repair/overhaul and support for engine spare source.
Royal Falcon
20-08-2014
I approached Jordan Airmotive because the service they provide is up to standards and meets the expectations. Jordan Airmotive helped me by understanding our needs and coming true on their deeds. The result was very good in terms of product and cost. One thing I liked was their continues correspondence, feedback, open door policy and friendly atmosphere. I found the experience is very good in general. I would recommend Jordan Airmotive to people who need engine work.
SCAT Airlines
20-08-2014
I approached Jordan Airmotive because they made an extensive marketing promising very favorable prices for their services. Jordan Airmotive helped me by providing very customer friendly approach on solving our CFM56-3 repair plan for 2014 The result was absolutely acceptable they showed up very good flexibility cooperating with "difficult" customer. One thing I liked was their very polite way of communication I experience very rarely I found the experience satisfactory for solving our issues with CFM56-3. I would recommend Jordan Airmotive to people who need acceptable prices for their repairs and like very open and helpful MRO behavior
AJW Aviation
20-08-2014
Jordan Airmotive has a well-known reputation for high quality and flexibility in the MRO industry among competitors and this is why we have approached them. On the new project scale, they have helped in offering their direction that matches our standards and meets our satisfaction level, this led to successful projects within a very reasonable time frame, relationship building and future growth plans for both companies. They are also known by their substantial friendly and customer focused approach. Therefore, I would highly recommend Jordan Airmotive to clients who are serious for partnership approach and for satisfying results in the MRO industry